William Baude is Neubauer Family Assistant Professor of Law at the University of Chicago Law School, where he teaches federal courts and constitutional law. His current research projects include papers on originalism, historical practice in constitutional law, federalism, the Supreme Court, and conflicts of law. His recent publications include "Rethinking the Federal Eminent Domain Power," and "Beyond DOMA: State Choice of Law in Federal Statutes." He also contributes to two legal blogs, the Volokh Conspiracy and SCOTUSBlog. 
He received his BS in mathematics from the University of Chicago and his JD from Yale Law School. He then clerked for then-Judge Michael McConnell on the United States Court of Appeals and Chief Justice John Roberts on the United States Supreme Court. Before joining the Chicago faculty, he was a fellow at the Stanford Constitutional Law Center, a summer fellow at the University of San Diego Law School's Center for Constitutional Originalism, and a lawyer at Robbins Russell, LLP in Washington D.C.
BS, University of Chicago, 2004
JD, Yale Law School, 2007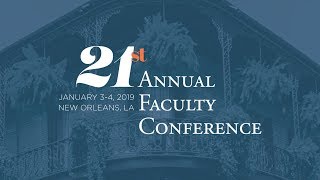 21st Annual Federalist Society Faculty Conference
This panel will focus on questions of academic rigor and intellectual orthodoxy in modern American...