Dean O'Hara O'Connor is a noted scholar in several areas, including conflict of laws, arbitration and the law market. Prior to joining Florida State in 2016, Dean O'Hara O'Connor taught at Vanderbilt Law School, where she served as director of the Law and Human Behavior program from 2007 to 2010, associate dean for academic affairs from 2008 to 2010, and director of graduate studies for the Ph.D. Program in Law and Economics from 2011 to 2016.
Dean O'Hara O'Connor received her juris doctor, magna cum laude, from Georgetown University Law Center, where she was a senior articles selection editor on the Georgetown Law Journal. Upon graduating from law school, she clerked for Chief Judge Dolores K. Sloviter, of the U.S. Court of Appeals for the Third Circuit. Dean O'Hara O'Connor began her career in academia at the University of Chicago Law School and has taught at several other schools, including Clemson University, George Mason University, Georgetown University and Northwestern University.
21st Annual Federalist Society Faculty Conference
Hilton New Orleans - Compass, Riverside Complex
2 Poydras St
New Orleans, LA 70130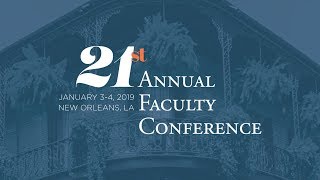 21st Annual Federalist Society Faculty Conference
This panel will focus on questions of academic rigor and intellectual orthodoxy in modern American...