Aaron Wright is an expert in corporate and intellectual property law, with extensive experience in Internet and new technology issues. Before joining Cardozo's faculty, he sold a company to Wikia, the for-profit sister project of Wikipedia, where he ran Wikia's New York office, served as General Counsel and Vice President of Product and Business Development, and helped build an open source search engine. Wright has clerked for the Honorable William J. Martini of the U.S. District Court for the District of New Jersey and worked as an associate at several prominent New York law firms, including Patterson Belknap and Jenner & Block. He received his J.D. from the Benjamin N. Cardozo School of Law, where he served as the editor-in-chief of the Cardozo Law Review. He has a forthcoming book about blockchain technology and the law (co-authored with Primavera De Filippi) that will be published by Harvard University Press.
21st Annual Federalist Society Faculty Conference
Hilton New Orleans - Compass, Riverside Complex
2 Poydras St
New Orleans, LA 70130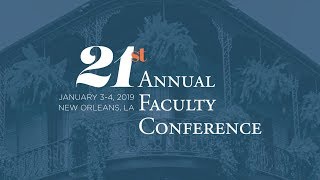 21st Annual Federalist Society Faculty Conference
Over the past year, there have been a number of discussions about social media and...